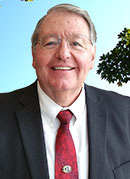 Tim Taggart has been a pioneer in LDS travel pretty much from the beginning of the industry, traveling to the lands of the scriptures in the Middle East and Europe the first time in 1981 and conducting tours since 1983.
He was born and grew up in Cache Valley, Utah and served his first mission in Australia. He received a bachelor's degree in history and political science from Utah State University with a career goal to become a master teacher'. He began his teaching career in the LDS Church seminary program, completing a master's degree in instructional technology from USU at the same time. His teaching career changed course in 1982 when he and the family came to Salt Lake City to work for the Church producing media. The new focus was to teach through the technology of visual and audio media to a worldwide audience.
Tim has retired as a director for the Audio-visual Department of the Church for which he worked for over 20 years. Over the course of his career he had the responsibility for production of General Conference, the Church Satellite System, film and video production, and global media. He also was in charge of overseeing the media for the international areas of the Church and worldwide language production. After serving as Stake President, he was called with his wife Gloria to serve as Mission President of the England Bristol Mission from 1997 to 2000. Since his retirement, he is currently teaching Religion to Adult Education classes.
Tim has traveled to nearly every area of the world, professionally and as a tour guide. Needless to say he has a great love for travel, exploring the various regions of the world, learning of their cultures and photo journaling his experiences! His love of teaching has shown while he has conducted dozens of tours to Church History, Holy Land and Book of Mormon sites.
He and his wife Gloria are the parents of two children and three grandchildren.
Tim
Taggart's
Current
Tours:
2023 Bringing the Bible to Life Jordan and Israel Tour with Tim Taggart
from 3,799
Destination: Amman, Jordan; Petra, Jordan; Tel Aviv; Caesarea; Sea of Galilee; Mt. Tabor; Masada;
Category: Holy Lands
Duration: 16 days 15 nights
2023 Egypt Discovery Tour including Nile Cruise with Tim Taggart
from 2,649
Destination: Cairo; Aswan; Nile River; Luxor;
Category: Holy Lands
Duration: 9 days 8 nights
2023 Fall Conference Church History tour with Tim Taggart
from N/A
Destination: Palmyra, NY; Fayette: Susquehanna River; Niagara Falls, NY; Kirtland, OH; Independence, MO: Adam-ondi-Ahman Nauvoo, IL; Carthage, IL;
Category: LDS Church History Tours
Duration: 10 days 9 nights
2023 Ultimate LDS Church History Tour with Scot and Maurine Proctor
from 3,699
Destination: Boston, MA; Lexington, MA Sharon, VT; Palmyra, NY; Harmony, PA; Kirtland, OH; Walnut Creek, OH Independence, MO:
Category: LDS Church History Tours
Duration: 15 days 14 nights
2024 Journey of the Apostles with Tim Taggart
from 3,199
Destination: Istanbul, Turkey; Izmir, Turkey; Ephesus, Turkey; Athens, Greece; Corinth, Greece Rome, Italy;
Category: Europe
Duration: 11 days 10 nights
Christmas in Branson 2023 with Tim Taggart
from 1,499
Destination: Branson, MO:
Category: North America
Duration: 6 days 5 nights
What our clients are saying about Tim:
Tim is an excellent guide, the trip was awesome and incredible – Schwider Family
Tim Taggart was an excellent guide – Brinton Family
Tim's knowledge and testimony was the best, his knowledge of the sights made all the difference – Butters
Tim made all the difference with this trip.  His insights were spot on – Clawson Family
Tim Taggart was amazing!  I will highly recommend him to my family when they go.
Tim did a super job keeping the group together and making sure we felt like a family
Tim's frequent devotions rocked!  - Christiansen Family