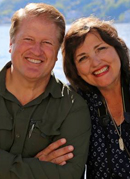 Scot and Maurine Proctor are the founders of Meridian Magazine and they have written several books together, including Witness of the Light, Source of the Light, Light from the Dust and The Gathering. They were formerly the editors of This People magazine.
After receiving her education from University of Utah and Harvard, Maurine Jensen Proctor, began her writing career with McGraw Hill Magazines and the Chicago Sun-Times. She has created award-winning television documentaries, has written a radio show for more than six years that played on 300 radio stations, and was a long-time writer of The Spoken Word for the Mormon Tabernacle Choir.
In his youth, Scot Facer Proctor was given the extraordinary opportunity to live in Ankara, Turkey for two different years. During that time he traveled extensively, studying and following closely the footsteps of the Apostle Paul. These experiences led to a lifetime of immersion in the ancient world and the scriptures. He continues to spend a great deal of time in the Middle East and the Holy Land. After serving a mission to Germany, Scot graduated from Brigham Young University with a degree in motion picture and television production and minors in political science and German. Scot is a professional photographer specializing in the photo-documentation of sacred sites throughout the world. He is the co-founder and publisher of is a professional photographer who wrote Witness of the Light which was a photographic book about Joseph Smith. The LDS Church has included his photos in their publications several times.
The Proctors taught Institute part-time for more than 15 years. They are the parents of eleven children and grandparents of seventeen and live in Alpine, Utah.
The
Proctor's Current
Tours: