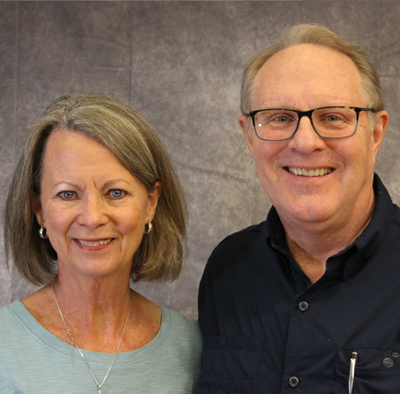 Dr. Craig James Ostler and his wife, Sandy, have a special love for sharing sacred and meaningful sites with fellow travelers. They help others to feel the power of being on site as they read, study, and ponder the scriptures on their tours. Participants return home with increased appreciation and understanding of the lives of the Savior, prophets, apostles, and every-day people, ancient and modern. Dr. Ostler has been a religious educator for more than 40 years, teaching with the Seminaries and Institutes for 15 years and as a Professor at Brigham Young University for 28 years. He has authored over 30 books and articles, produced more than 50 videos, as well as taught Adult Religion classes and at BYU Education Week. He was co-director of the BYU Church History Travel Study program before retiring from BYU in 2020. He has served on a General Church Writing Committee, as a Bishop, and on three High Councils.
Sandy received a degree in Early Childhood Education from BYU and, while her children were young, taught preschool in her home for several years. She loves gardening, knows nearly every flower and decorative plant on sight, and shares that love with others. She belongs to a private national group known as Growing Kindness that personally delivers happiness to others by sharing flowers, especially, varieties of dahlias. Her warm and uplifting welcome each morning will make your tour experiences begin with sunshine in your soul!
Dr. Ostler, Sandy, and family lived in Jerusalem in 1998 and again in 2008, where he led field trips and taught classes while on university assignment at the BYU Jerusalem Center for Near Eastern Studies. The family made many friends and due to Sandy's cheerful and welcoming nature. Dr. Ostler was affectionately known to the Jewish and Palestinian communities as Sandy's husband. As soon as COVID restrictions lifted, Elder and Sister Ostler served in the McAllen, Texas Mission (assigned to Laredo, Texas) 2021-2022. Dr. Ostler's earlier service as a young man in the Bogotá, Colombia Mission, and undergraduate degree in Spanish Teaching were put to good use in sharing their love for the people of Laredo. The Ostlers have 7 children, 23 grandchildren, and countless deeply loved friends.
Craig
Ostler's
Current
Tours: