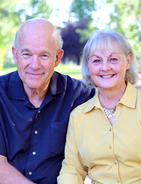 Allan completed a bachelor's degree in cultural geography and international relations at the University of Utah, and a master's degree and a doctorate degree in college and university administration at Brigham Young University.
As a retired educator, his career has been with the LDS Church Educational System, including forty-five years as an institute of religion instructor and administrator. He directed the institutes at San Diego State University, LDS Business College, and the University of Utah. He has written and taught on the geography of the Holy Land as well as many courses in the Old and New Testament. He has taught BYU adult education classes and lectured on various religious topics.
Vicki attended the University of Utah and Brigham Young University, performed as a member of the Tabernacle Choir, and worked as a legal secretary. They are the parents of seven children and twenty-one grandchildren.
They have directed tours for over thirty-five years to areas of the eastern U.S., British Isles, Europe, Russia, China, Scandinavia, the Mediterranean, and the Middle East. Their Bible Lands experience has taken them many times to Israel, Jordan, and Egypt, as well as to Italy, Greece and Turkey.
Allan
Gunnerson's
Current
Tours:
Warning
: implode(): Invalid arguments passed in
C:\inetpub\wwwroot\Webold\virtualhosts\mmt.com\www\root\tours\new\modules\mod_jbtour_list\helper.php
on line
48