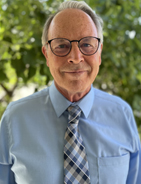 Bruce Newbold has worked as an actor, writer, and media producer throughout his career.
While working in Hollywood, he has guest- or co-starred in television programs such as Hill Street Blues, L.A. Law, Touched by an Angel, Highway to Heaven, Tour of Duty, Major Dad, Everwood, and Father Dowling Mysteries.
He has appeared in such faith-based films as Testaments; Finding Faith in Christ; Joseph Smith: Prophet of the Restoration; Only a Stonecutter; 17 Miracles; He Knows My Name; Christmas Oranges; The Saratov Approach, and the new Book of Mormon series produced by The Church of Jesus Christ of Latter-day Saints.
He has authored four books: In Our Fathers' Footsteps (based on the 1997 Mormon Trail reenactment expedition) along with three fantasy novels in The Baseball Box Prophecy series.
His one-man dramatization depicting the life of Christ, titled In Him Was Life, has been performed before audiences for over thirty years, throughout the United States and in England.
Bruce Newbold is married to the former Lisa Lindsay. They have five children and seventeen grandchildren.
2024 Spring Mediterranean and Holy Land Cruise Tour with Bruce Newbold
from 3,485
Destination: Rome, Italy; Vatican City, Italy; Day at Sea - Mediterranean Sea; Crete, Greece; Ashod; Haifa; Limassol, Cyprus
Category: Cruises
Duration: 17 days 16 nights