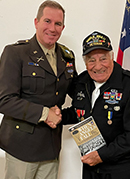 After a 16-year career in the exciting winter sport of bobsled, author, speaker and historian Jeremy C. Holm now finds himself traveling the world to share the experiences of America's World War II-era soldiers, sailors and airmen.
"After spending so many years telling my own bobsled story and showing my gold medals, it is an honor and a pleasure to get to share their stories and display their medals," Jeremy says. "We owe so much to The Greatest Generation and while it was a privilege to wear a uniform with 'United States' on it, it was nothing compared to what they did on the islands in the Pacific, on the beaches of Normandy, in the sands of Africa and on oceans around the world and the skies above."
Jeremy is the author of three books on the 11th Airborne Division in World War II, frequently lectures at military museums across the nation, and serves in the 11th Airborne Division Association. His YouTube videos have brought a deeper understanding of the airborne arm of America's military during World War II, especially for his grandfather's 11th Airborne Division. Before his passing at age 99, Jeremy had promised his grandfather, 1LT Andrew Carrico, that he would do all he could to tell the story of the 11th Airborne. After over a decade of interviewing the last living Paratroopers and troopers of this division, Jeremy has expanded his knowledge and understanding of World War II to include the European Theater, especially D-Day, as well as the entire Pacific Theater and the North Africa Campaign.
"I look forward to touring with you and experiencing history together." -Jeremy C. Holm
Get
to
know
Jeremy
C.
Holm:
Tour
With
Jeremy
C.
Holm:
author,
historian
and
American
bobsled
athlete:
2024 World War II Battlefields & D-Day 80th Anniversary Tour with Jeremy Holm
from 3,379
Destination: Paris, France; Normandy Beaches; Bayeux, France; Sainte-Mere-Eglise, France; Cotentin Peninsula, France; Saint-Lo, France; Falaise, France; United States
Category: Europe
Duration: 11 days 10 nights