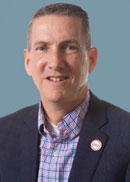 Dennis Leavitt married Nykele Gagon in 1985. They are the parents of 4 children and 4 grandchildren. Dennis was employed by the LDS Church Educational System from 1985 – 2011. His assignments included the MTC, various seminaries and institutes of religion, EFY, and adult religion. He was also part of the S&I Curriculum and Training Team from 1995-2000.
The Leavitt's have been directing tours for the past 25 years to the sacred sites of the Restoration and the Holy Land. His knowledge, focus, and comfortable teaching style help make each trip a meaningful adventure for every participant.
Dennis has authored, co-authored, and worked as the general editor of several books. He has served as a Bishop and Stake President, Area Temple and Family History Consultant in the Church of Jesus Christ of Latter-day Saints. He now serves as a Stake Institute Teacher in his hometown of St. George, Utah.
The Leavitt's love to travel, enjoy recreational sports – especially golf, and enjoy spending time together as a family.