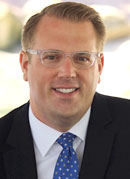 Matthew B. Christensen or Matt, as he is known to his friends, is passionate about the scriptures, the doctrines of the Restoration, history, and learning and teaching. "I am thrilled to be able to travel with like-minded individuals and share ways our lives intersect and are influenced by the sacred events and scriptures of the Holy Land," he said.
Professionally he has spent the last decade working for LDS Philanthropies, working with great men and women helping to build the Kingdom. Before that, he taught Book of Mormon and Doctrine & Covenants courses at BYU in the College of Religious Education. His avocation is learning all he can and then finding ways to share that knowledge with others.
He assisted Joseph Fielding McConkie for many years on a dozen books and other research and writing topics. Matt's first book, The First Vision: A Harmonization of 10 Accounts from the Sacred Grove, was published in 2014 to positive reviews, and was endorsed by Richard L. Bushman, Robert L. Millet, and Richard O. Cowan. His current writing projects include a documentary history of non-canonized revelations of early LDS leaders, a book on priesthood and Church government, a book on the Messiah Ben Joseph, and a new biography of the late LDS apostle, Elder Bruce R. McConkie.
Matt received his Bachelors and Masters degrees from BYU and is preparing to begin a PhD in history. A native of Edmonds, Washington, he and his wife Talia have five amazing children. Matt has served in a variety of callings in the Church including bishop and a stake presidency counselor.
Warning
: implode(): Invalid arguments passed in
C:\inetpub\wwwroot\Webold\virtualhosts\mmt.com\www\root\tours\new\modules\mod_jbtour_list\helper.php
on line
48