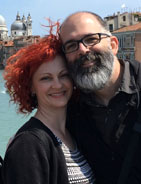 Howard and Shari Lyon are a dynamic and artistic duo!
They met while attending high school in Mesa, Arizona. After graduation Howard served a mission and then they married and went on to BYU. Howard began his career studying illustration working with artists such as Robert Barrett, Don Seegmiller, James Christensen and Greg Olsen. For the first 15 years of his career he worked in the video game industry as an Art Director, concept artist and freelance illustrator. For much of his career he has painted dragons and trolls or scenes from science fiction. As he has continued to study art in Italy, France and the Grand Central Academy in New York, he combined these experiences with his desire to expand his subject matter to create inspirational pieces that have now been published in many Ensign Magazines, LDS Church teaching Manuals, calendars, book covers and has recently finished his 1st book. He has painted two 15 foot murals for the Gilbert Temple baptistery and has many other images in temple locations around the world.
Shari is an encaustic artist who paints with beeswax & damar resin. She has won awards at varies shows and also been recognized for her art pieces. She is an entrepreneur & business woman who loves to reinvent herself.
Together they have 3 children and live in Utah. They continue to create art, teach art classes and have lead European tours for BYU students and other private groups. They have a passion for Italy and are excited to share their love of art, LDS Temples and traveling on the Splendors of Italy tour in 2019.
Current
Tours
with
the
Lyons: