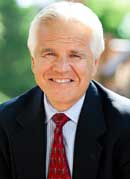 With a professional background distinguished by public service and community involvement, Doug Wright has long been recognized as a rational, dependable voice on a myriad of local and national topics. Most of his over 40 years in the broadcast industry have been spent at KSL Radio in Salt Lake City where listeners depend on his knowledge of worldwide political and current events to keep them informed. Each Friday morning Doug hosts the ever-popular KSL Movie Show, featuring movie reviews and entertainment topics.
Doug is a Utah native, proud of pioneer roots that go back to the 1840s, and his family political legacy. Raised in the Sugarhouse area, Doug began his broadcast career while still in high school. An avid reader, his natural curiosity and love of history propelled him toward his favorite hobbies of collecting books, coins and historical memorabilia. Married for over 30 years to his wife D., they are the parents of three children. Doug is a huge REAL Salt Lake soccer fan and cheers for the University of Utah!
Doug is especially fond of a fried macaroni which he makes from a recipe which calls for Swiss cheese and has been in the family for many decades. He also makes a wicked apple pie and thinks his flaky crust recipe is the best around. He really likes Robert Redford movies, and a couple of his are Jeremiah Johnson and The Natural. But he's also been known to gravitate to some of the more colorful Coen Brothers movies like "Oh, Brother Where Art Thou" and "The Big Lebowski." Doug collects many things (too many, in his wife's opinion), including books, coins, mining artifacts, historic documents, old radios and broadcast equipment. He even collects old bricks which he likes to use in making paths around his patio and house in Eureka, Utah where he enjoys unwinding and working on the constant upkeep of his properties there. He also does a great deal of community service for the little town, along with accepting many local and state-wide invitations to participate in a variety of worthwhile causes. Doug is a surprisingly good auctioneer - a skill that came oddly natural after watching a few auctions in Missouri where he visits occasional with his wife D.'s family. He has a good ear for mimicking accents and doing impersonations.
Current
Tours
with
Doug
Wright: