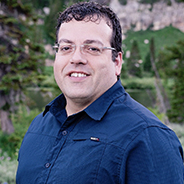 From Ugo:
I was born in Milan, Italy and moved to the States when I was 21, first to serve as a full-time missionary in the California Sacramento Mission, and then to study at Brigham Young University in Provo, Utah.
At BYU, I received first a BS (2000) and then a MS (2001) degree in Health Sciences together with a minor in Business Management and a graduate minor in Ancient Scriptures. In 2010, I received a PhD (2010) in Genetics and Biomolecular Sciences from the University of Pavia (Pavia, Italy) under the mentorship of Professor Antonio Torroni.
I worked as a senior researcher for the non-profit Sorenson Molecular Genealogy Foundation from 1999 to 2012 and done some part-time teaching at the college level (both at Brigham Young University in Provo and at the Salt Lake Community College in Salt Lake City).
Currently, I am the Coordinator for the Seminary and Institute program for the Church of Jesus Christ of Latter-day Saints for Central Italy and Malta. Because of this wonderful employment opportunity, I have relocated in 2012 with my family to the beautiful and historical city of Rome. I have been able to keep my academic research affiliation with the University of Pavia where I am a Visiting Scientist and I continue to work on research projects with collaborators from the universities of Utah, Illinois, Perugia, Rome, Florence, and BYU. As part of my full-time job with the Church Educational System, I am the Director of the Rome Institute Campus for Religion.
My personal interests are reflected by the type of projects I have been involved with and that I am sharing on this website, namely DNA applications to the study of population migrations and genetics, molecular genealogy and ancestry, and history, particularly Mormon history. My greatest objective in life is trying to be the husband my wife deserves to have and a loving and caring father for the five children I have been blessed to have.