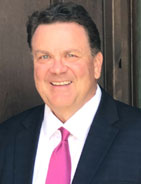 While visiting the lands of the Book of Mormon and of the Bible, it is a very special experience to open the scriptures and envision and relive the sights and events from the Scriptures. Each time we visit an archaeological site or view an ancient artifact that might have existed during the time period of the Book of Mormon or Bible, our desire to study the Word of God increases.
Roger Manning currently works as a Representative for the Mexico and South America South Areas of the Church in the Missionary Department. He received a bachelor's degree from Utah State University, a master's degree from Idaho State University, and a doctoral degree (PhD) from Utah State University.
Roger worked many years in the Church Educational System as a seminary and institute instructor in Idaho, Utah, and Florida.  He's supervised seminaries and institutes in Utah, Alabama, Georgia, and Florida. He served as the pre-service teacher training director for the Salt Lake City area and as the Area Director for Northern Utah, Southeast Idaho, and Western Wyoming.   He loves spending time with his family and serving in the Church. His hobbies include all sports, camping, fishing, hunting, snowmobiling, farming, gardening and raising animals.
Brother Manning has three daughters and two sons and five grandchildren. 
From 2009-2012 Roger served as Mission President in the Peru Lima South Mission.
Roger has traveled extensively for CES and the former BYU Travel Study throughout the United States, Mexico, Central America, Egypt, and Israel. Together they've traveled over 12 times to Mesoamerica (Mexico and Central America) directing Lands and Times of the Book of Mormon tours. They thoroughly enjoy meeting new people and making new friends in various parts of the world. The diversity of people, culture, and geography throughout the world is very fascinating to both. He has a special love for all people, especially the Latino culture. He developed this affinity for the Latin people while serving a full-time LDS mission to Ecuador. 
Roger
Manning's
Current
Tours:
2023 Historic Rome and Italian Highlights Tour With Roger and Julie Manning
from 2,099
Destination: Rome, Italy; Naples, Italy; Florence, Italy United States
Category: Europe
Duration: 8 days 6 nights
2023 Holy Land Tour with Roger and Julie Manning
from 2,899
Destination: Tel Aviv; Caesarea; Capernaum; Nazareth; Masada; Jerusalem; Bethlehem; Gethsemane;
Category: Holy Lands
Duration: 11 days 10 nights
2023 The Best of Peru with Roger Manning
from 2,780
Destination: Ica, Peru; Lima, Peru; Cuzco, Peru; Machu Picchu, Peru; United States
Category: South America
Duration: 7 days 6 nights
2024 Holy Land Tour with Roger Manning
from 3,159
Destination: Tel Aviv; Caesarea; Capernaum; Nazareth; Masada; Jerusalem;
Category: Holy Lands
Duration: 11 days 10 nights
What
people
are
saying
about
traveling
with
the
Mannings:
"Roger C Manning led us through the Holy Land. They created an opportunity for us to build upon our love for our Savior in a way that I will never be the same. The group that I had the privilege of sharing these experiences with, will forever hold a dear place in my heart. ❤️ He lives!" -Nicole Crawford
"It was amazing! I loved it so much! Thank you Manning's and everyone in our great group for making this wonderful! What a fun, kind bunch of people. To be with so many of my friends I've had for a long time and new friends I made on this trip made this an experience I will always cherish!" -Leata Anderson Jensen
"It was THE best group of people ever! Thank you Manning's fir sharing the Holy Land with us. Love this group of people!" -Nora Cole Christensen
"Roger did a phenomenal job on making sure we had a spiritual experience. I really appreciated all the time and effort you guys put in to making it memorable for us!" -Laurie Miller
This trip was and will be dear to me forever!" -Trudy Young Paskett