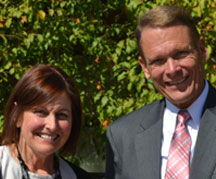 Ken served as a Mission President of the Cleveland Ohio Mission and has been a seminary and Institute teacher for 40 years. He will tell you that one of his passions is Church History and it is one of his favorite subjects to teach. He earned his Computer Science degree at the University of Utah and his MBA at the University of Phoenix.
They both enjoy the privilege of teaching the gospel at the location where sacred experiences occurred. They have conducted Church History and American History tours through the east and mid-west as well as directing pioneer trail workshops. They have enjoyed traveling throughout Europe and the Holy Lands.
They both love teaching and gardening. They currently love in the San Diego area and have seven children and 13 grandchildren.
Ken
Peterson's
Current
Tours: