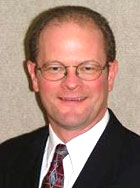 Dean Garner's educational experiences reflect a great love of learning and of ancient history. He earned a bachelor's degree in art, with an emphasis in education and photography, from Weber State University in 1987. He received a master's degree from Lesley College in Cambridge, Massachusetts, focusing on curriculum development in education. His graduate work was performed at the University of Arizona in Near Eastern studies, with an emphasis in archaeology. His experience with the Holy Land has been a lifetime pursuit in and out of formal settings, developing into a great interest in Holy Land peoples and other ancient cultures.
Because of his father's employment with the Church, Dean's family moved 21 times before he served a mission in Harrisburg, Pennsylvania. He said, "As a result, we had to learn to make friends quickly and develop outgoing and positive personalities."
For 20 years Brother Garner has been employed with the Church Educational System, teaching seminary and institute in Tucson, Arizona; Farmington, New Mexico; Denton, Texas; and Cedar City, Utah. He continues the family tradition, as both his father and brother also work for CES. He believes being both a teacher and a student is a way of life taking place continually, both in and out of classrooms. He believes Ezra Taft Benson explained well what should be taught: "The teaching of the word then is the answer to the redemption of souls. This is what we are about today."
Brother Garner and his wife, Lisa Badders Garner, were married in the Los Angeles Temple in 1982. They have three daughters and one son. Brother Garner presently serves on the high council of the Cedar City West Stake, and past callings vary from Primary teacher to bishop. Brother Garner's greatest interests are the Savior and his family. In his spare time he enjoys studying ancient cultures, photography, and writing. He has been on the writing team for three publications for Deseret Book; Scripture Study for Latter-day Saint Families: Book of Mormon and Scripture Study for Latter-day Saint Families: Doctrine and Covenants. Scripture Study for Latter-day Saint Families: New Testament.
Dean
Garner's
Current
Tours: