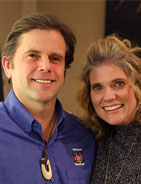 In the last 3 decades, Tom and Gayle Holdman have created internationally renowned art glass in all 50 states and 40 countries. Ten years of effort went into the hundreds of art glass windows in the Paris and Rome temples for the Church of Jesus Christ of Latter-day Saints. Over all, they have been involved in 100 temples for the Church and other religious denominations worldwide.
Tom started his glass studio out of his parents' garage and never looked back. Gayle is an artist, designer, Education Week instructor and best selling co-author of, "Come Unto Me," the companion book for the monumental stained glass window illustrating the Savior's life and ministry created for the Rome Visitor's Center. Their Roots of Knowledge windows at UVU chronicle the impact of inspiration and human action throughout the ages. This compendium of history has been hailed in Europe as one of the most spectacular stained glass windows made in the past 100 years.
Tom and Gayle recently received the Days of '47 Pioneers of Progress award in Historic and Creative Arts as well as the Governor's Artist Award. They are thrilled to share with you their journey of creating temple art glass along with insights on some of the phenomenal art masterpieces found in Italy and France..