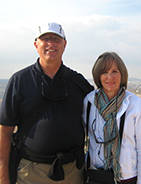 Dr. Craig K. Manscill is an Associate Professor of Church History and Doctrine at Brigham Young University. He has served as a religious educator for forty-years—twenty-two years with Seminaries and Institutes (S&I) and eighteen years with BYU. In 2009-10 he served on the faculty of the BYU Jerusalem Near Eastern Studies Program where he directed students in their studies and travels throughout Israel, Egypt, and Jordon.   While living in Israel he served in the Israel District Presidency interacting with members and leaders of other churches.
He and his wife Jana have traveled to and directed tours to Israel, Jordon, Egypt, Greece, Turkey, the South Pacific, and LDS Church historical sites. At BYU he has researched and published numerous articles and books in nineteenth century Church history including a brief history of the LDS Church in Illinois, 1830-1839. With S&I he served as an instructor, coordinator, curriculum writer and manager of Institute curriculum. Concurrently with S&I and under the direction of the LDS Church he jointly authored the publication Our Heritage, and served as chair of the Melchizedek Priesthood and Relief Society series of Presidents of the Church for the presidents Brigham Young, Joseph F. Smith, and Harold B. Lee manuals. His current research focuses on the Hyrum Smith Papers project, Pacific LDS history and the life of John the Baptist. The past four summers he has served as co-director of the Church History and Nauvoo Studies program for BYU undergraduate students.
He is married to Jana Lee Hancey of Ogden, Utah they are the parents of eight children and they reside in Utah County in the community of Lindon.
Craig
Manscill's
Current
Tours: