October
19-30,
2022
-
Hosted
by
Kay
Godfrey
Visit: Tel Aviv; Caesarea; Nazareth; Banias; Capernaum; Dead Sea; Jerusalem; Bethlehem; Gethsemane; United States
Price: From $2,525 pp/dbl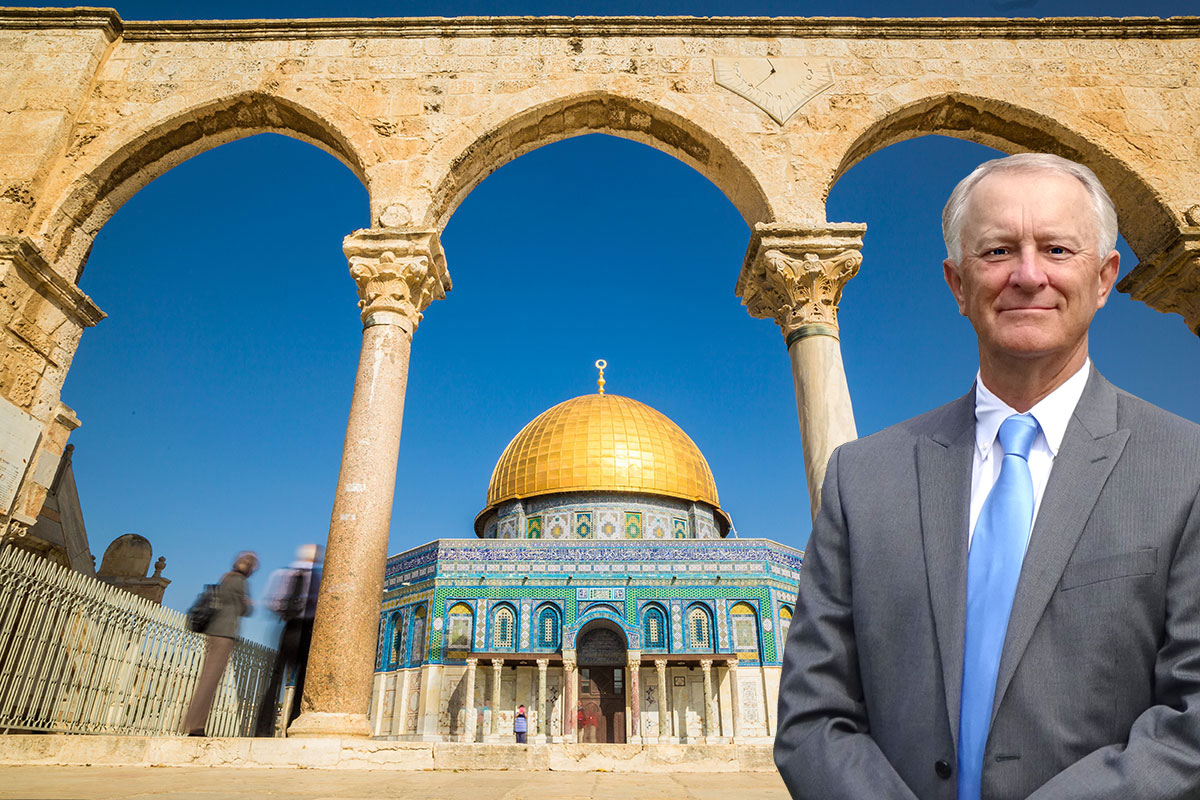 ISRAEL CURRENTLY REQUIRES ALL TRAVELERS, REGARDLESS OF AGE, TO BE FULLY VACCINATED AGAINST COVID-19 TO TRAVEL.
Come join acclaimed tour host, Kay Godfrey on a tour that will touch your heart and mind. Kay's passion for the Holy Land is matched with his experience to make sure you get the very best experience possible.
Journey back to the Holy Land where the land echoes with the voices of Abraham, Moses, David, and Elijah. 16 days to see and experience the places where Christ's powerful teachings still permeate the land. You'll see the most incredible landscapes, one of the new 7 wonders of the world, and several of the most sacred spots on Earth, all in one tour. From the ancient Petra in Jordan to Masada, from the Sea of Galilee to the Red Sea, from the Mt. of Transfiguration to the Temple Mount, and from Gethsemane to the Garden Tomb, we will see and feel it all.
While other companies take 2 and 3 buses on their tours, ours has a 1 bus guarantee that ensures you have an intimate experience at the sites as well as your educator. It allows your group to bond as a family and makes fast friends with those your traveling with. You will not come home wishing you had more.
*While the physical activity on this tour (walking distances) is not great, the days are full with touring from breakfast to dinner time with "down-time" only in the evening.
To complete the experience be sure to add on the Egypt pre-tour to visit the ancient pyramids of Cairo (2000 years old when the boy Jesus visited) and the ancient temples of Luxor!
Highlights of the Tour:
1 tour-bus experience for the whole tour!
Morris Murdock LDS tour Director for the whole trip along with local guides
VERY INCLUSIVE rate -Tour, transportation, Tips & taxes, breakfast & dinner daily - All you pay for is lunches & souvenirs! 
We include all tipping for hotels and restaurants where meals are provided, an Israeli guide, and a driver!!
Licensed,  insured, and bonded travel agency with 60 years of experience!!  IT MATTERS!
Tour ID # 9223C22
A CASH DISCOUNT of $100.00 applies for all payments made by check or ACH AFTER deposit
To Book This Tour, Contact your favorite Morris Columbus Travel advisor or the Group Tour Manager listed below:
Sarah Wangsgard, Tour Manager
Tel: (801) 483-6473
Email - swangsgard@morrismurdock.com