APRIL
2024
SPRING
HOLY
LAND
TOUR
April
5-18,
2024
-
Hosted
by
Dann
Hone
Visit: Tel Aviv, Caesarea, Nazareth, Galilee, Jericho, Dead Sea, Jordan, Jerusalem, Jaffa and more.
Price: From $3,249 pp/dbl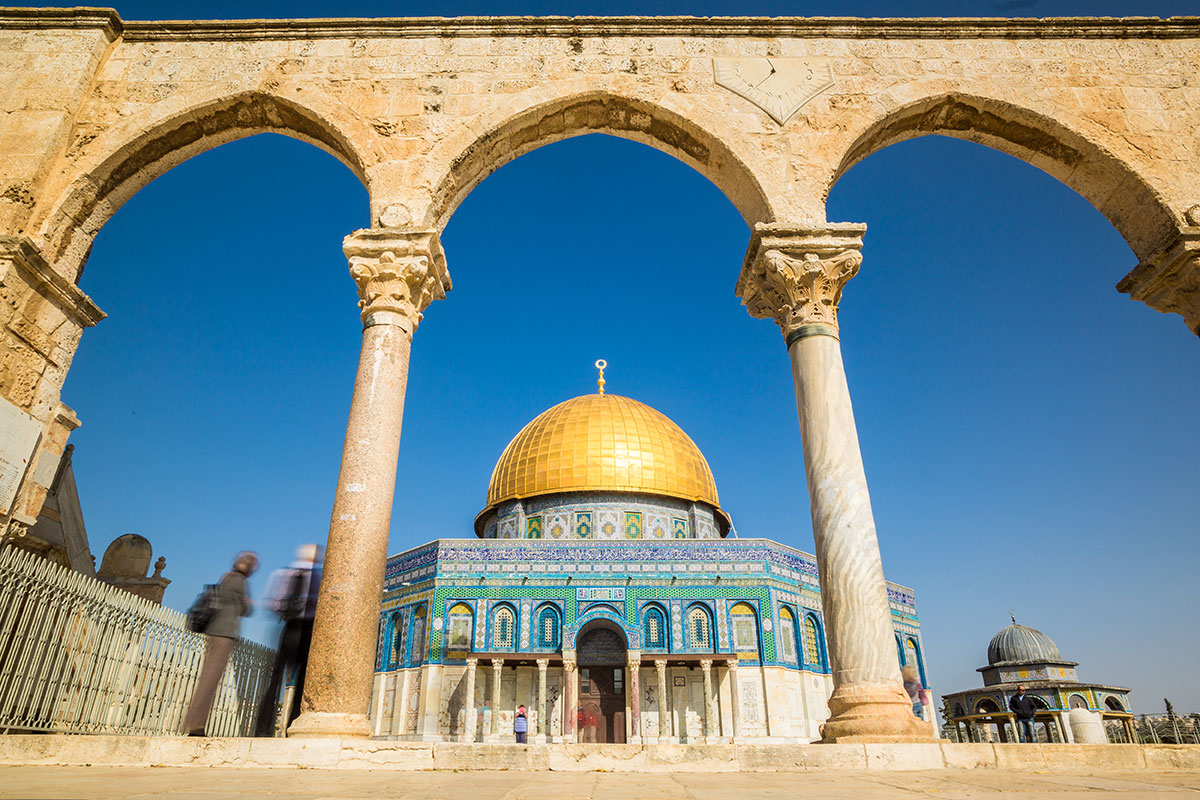 Israel is a religious headquarter for millions worldwide. Come join us as we discover this part of the world that keeps tourists coming back for more. Follow the footsteps of Christ in the Holy Land, sail on the Sea of Galilee, and pause at the Garden Tomb. Expert guide Dann Hone will teach you the history and culture of this part of the world and will make the tour one that you will remember for a lifetime. Also offering an exciting Jordan pre-tour option.
While other companies take 2 and 3 buses on their tours, ours has a 1-bus guarantee that ensures you have an intimate experience at the sites as well as with your educator. It allows your group to bond as a family and makes fast friends with those you are traveling with. You will not come home wishing you had more.
*Please note that due to the nature of this tour, you must be able to climb stairs and walk unassisted at a moderate pace. You will walk an average of 4-6 miles each day. The days are full of touring from breakfast to dinner time with "down-time" only in the evening.
To complete the experience be sure to add on the Jordan pre-tour adventure into another part of the Bible Lands where prophets, kings, and Jesus Christ traversed. This tour highlights the major sites of Jordan prior to your Holy Land experience in Israel and Palestine. At the conclusion of our Jordan tour, you will be transferred to our tour group hotel in Netanya, Israel, for the start of our Holy Land tour.
Highlights of the Tour:
1 tour-bus experience for the whole tour!
Morris Murdock LDS tour Director for the whole trip along with local guides
Pre-Departure Zoom seminars to help prepare you for a true spiritual experience
VERY INCLUSIVE rate
Licensed, insured, and bonded travel agency with 60 years of experience!! IT MATTERS!
Tour ID # 9224D06
A CASH DISCOUNT of $100.00 applies for all payments made by check or ACH AFTER deposit
To Book This Tour, Contact your favorite Morris Columbus Travel advisor or the Group Tour Manager listed below:
Dani Edmunds, Tour Manager
Tel: (801) 483-6114
Email - Email Dani About This Tour