September
9-23,
2023
-
Hosted
by
Dann
Hone
Visit: Athens, Greece; Kusadasi, Turkey; Rhodes, Greece; Santorini, Greece; Delphi, Greece Thessaloniki, Greece Rome, Italy; United States
Price: From $4,637 pp/dbl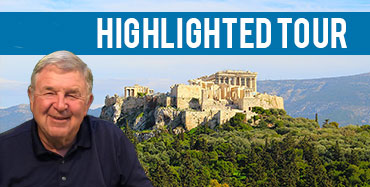 We invite you to join this inspirational journey with favorite tour host, Dann Hone, to study the settings and teachings of Peter, John, and Paul in Greece, Turkey, and Rome!
This tour takes you to the very locations where all of their New Testament letters were originally written. Experience sailing on the Aegean Sea stopping at five of its islands and stand in the Roman Theater where Paul preached to the Ephesians, traverse the Isle of Patmos where John received the Revelation, and visit the locations of Peter's final testimonies.
All of this and much more of the ancient and modern history and cultures of Greece, Turkey, Rhodes, and Rome will be part of this exciting adventure.
To Book This Tour, Contact:
Julie Demille, Tour Manager
Tel: (801) 483-6172
Email Sarah
Tour Id - 9223I10